Location: Mountain View, CA
HOSTED BY:
Cost: $595.00 per person (early bird rate)
This event is open to all SmartFlow customers and by invitation to guests - please submit the I want to attend! form to request an invitation. If you are a SmartFlow customer or have received an invitation, you can register and pay now. Early bird discount applies until September 10th.
This is the premiere event for anti-piracy, software license compliance, and cyber security technologies. It brings together key technologists, attorneys, and executives in the private and public sector to discuss the critical issues and best practices for protecting software intellectual property from piracy and unauthorized use. The conference will be attended by the world's leading software companies involved in electronic design automation (EDA), computer-aided design (CAD), scientific computing, building information modeling (BIM), geographic information systems (GIS), and other relevant valuable software applications.
Keynote Speaker: Scott N. Schober, Cyber Security Expert

Scott N. Schober is the president and CEO of Berkeley Varitronics Systems (BVS), a 45-year-old New Jersey-based, privately-held company and leading provider of advanced, world-class wireless test and security solutions. Scott has developed cellular test instruments used primarily for cellular buildout throughout the U.S., with a recent focus on security solutions for cell phone detection tools, Wi-Fi, Bluetooth, and IoT used to enforce a "no wireless" security policy in government, corporate, military, educational, correctional, and law enforcement facilities around the world.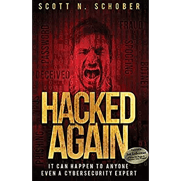 Scott is a highly sought-after author and expert for live security events, media appearances, and commentary on the topics of ransomware, wireless threats, drone surveillance and hacking, cybersecurity for consumers and small business, and emerging blockchain technologies. He is often seen on ABC News, Bloomberg TV, Al Jazeera America, CBS This Morning News, CGTN America, CNN, Fox Business, and many more networks. His security advice can be heard on national radio networks,including NPR, Sirius XM, and Bloomberg Radio. Scott regularly presents at tech and security conferences, discussing wireless technology and its role in breaches, as well as his vision for best practices to stay safe in the future. Scott is the author of Hacked Again: It Can Happen to Anyone, Even a Cybersecurity Expert, available on Amazon.com.
Summit Schedule:
Oct 8 - 9

8:30 - 5:00

New User Training & Introduction to SmartFlow (for clients only)

Oct 10-11

8:30 - 5:00

Anti-Piracy and License Compliance Summit

(for clients/by invitation only)

Oct 12

8:30 - 12:30

SmartFlow User Group Meeting (for clients only)

Guest Speakers:
Bill Griffin, Partner, TechCXO -

Through a varied

career as a global sales leader that spans multi-billion dollar companies in the construction, energy, financial and professional services, media and entertainment, and software/SaaS industries, Bill Griffin has led large teams in multiple functions, including enterprise, inside sales, sales operations, field marketing, and customer success. Bill managed the license compliance programs at AutoDesk and Aspentech, where both programs resulted in significant incremental revenues.

Graham Kill, Former CEO, Irdeto -

Graham

returned to the UK in 2015 after 24 years abroad to live and develop a portfolio of activities in the UK , including directorships, investing in companies, charity trusteeships and volunteering in his community. Previously, Graham was in international media and technology, 20 years of which was as CEO of Irdeto, a software, technology, and security company serving Naspers' operations and TMT customers worldwide.

Michael O'Connor, Quinn Emanuel Urqhart & Sullivan, LLP -

is an attorney

in the Washington, DC office. Michael's practice includes intellectual property litigation, antitrust litigation, and data security and privacy. He has dual degrees in computer science and biology from Pennsylvania State University. Michael advises clients on legal planning for data breaches, their obligations for safe handling of personally identifiable information, and the legal implications from emerging technologies like Bitcoin, Ethereum, and the blockchain.

Sarah Pearce, Partner, Paul Hastings LLP

- GDPR and EU ePrivacy regulation –

Sarah is a partner in the privacy and cyber security practice of Paul Hastings and is based in the firm's London office. She assists clients in identifying, evaluating, and managing global privacy and information security risks and compliance issues. Her experience includes conducting privacy impact assessments and advising on risk management associated with data collection/use, international data transfer and marketing issues including the drafting of privacy notices, policies, standards, and processes.

Guy Ruttenberg, Ruttenberg IP Law - Guy Ruttenberg is the founder of Ruttenberg IP Law, A Professional Corporation. A graduate of Harvard Law School and the University of California, Los Angeles (UCLA), Mr. Ruttenberg has represented major corporate clients in federal and state courts, as well as before the International Trade Commission (ITC). Guy's practice focuses primarily on patent litigation matters and other areas of intellectual property and counseling.

Diana Torres, Partner, Kirkland & Ellis LLP -

Diana is a commercial litigation and intellectual property partner at Kirkland & Ellis, LLP in the Los Angeles and Palo Alto offices. Torres focuses her practice on intellectual property, trade secrets, and unfair competition matters, and has handled many high-profile matters for a wide variety of clients, including electronics and consumer products manufacturers and financial institutions.
Call for Papers: If you have interesting and pertinent content to share, we invite you to present at the summit.